M-Ziel Tactical Boot Throwing Knife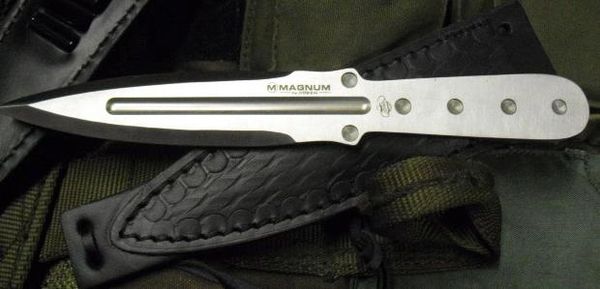 M-Ziel Tactical Boot Throwing Knife
*Price does not include freight. No international shipping. Continental 48 states only.
M-Ziel, Boot /Throwing Knife: Is not only a compact version of the Ziel II by John Bailey, but a knife for the armed forces and tactical personal. The M-Ziel is, 3/16 thick, 8 7/8 inches long, 7 oz. and 420 stainless steel. John designed this knife to hold up when you need to pry open a suspicious grate, punch holes in a drum or pop a car window to aid in a rescue; all this and a great throwing knife too. The top grain leather sheath has a high-rise belt clip, eyelets for lacing down stealth carry or to tie on to a vest or other equipment. The M-Ziel knife comes with a genuine leather, sheath and tie
A Ret. 1st. Sgt. told me: "The Special Forces guys a Ft. Bragg are buying these up fast."
NOTE: Due to raising international mail prices and other international restrictions we will no longer mail out side of the US. Search the internet and you will find distributors who can send John Bailey designed knives to your country. I'm sorry for the inconvenience and we appreciate your loyalty over the many years.